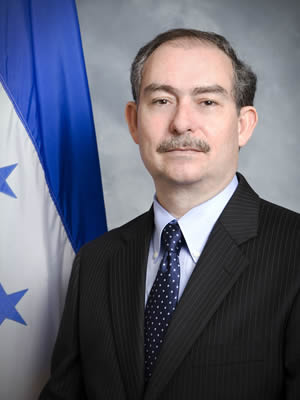 Ambassador Jorge Alberto Milla Reyes is the Ambassador of Honduras to the United States of America.
His previous appointment as Deputy Chief of Mission of the Embassy Honduras to the United States of America and the alternate representative to the Organization of American States.
He has been the Counselor and Responsible of the Consular Affairs of the Embassy of Honduras in Spain, El Salvador, Nicaragua, among other countries and his in early career he worked as an attorney for the law firm Valladares Lanza.
He is the founder of ¨La Asociación Hondureña de Filosofía del Derecho y Filosofía Social¨, and worked in various publications, the most recent one a book called "Costa Rica y Nicaragua: historias de un arreglo de fronteras". His experience includes research work on several important archives in Spain, Costa Rica and Honduras.
Jorge Alberto received a degree in law and social sciences, with a focus on International Law from Universidad Nacional Autónoma de Honduras (UNAH). He is incorporated in the Universidad Complutense de Madrid and the Universidad de Costa Rica (UCR) as Lawyer and registered with the Law Bar Association of Honduras since April 1982. He also completed studies of doctoral programs in law from the Universidad Complutense de Madrid and Universidad Latino Americana de Ciencia y Tecnología. (ULACIT) in Costa Rica.
Complete CV